Accessories, Body & Soul and find your own way here~
HALLWAY TO CHANGING ROOMS AT PLANET YOGA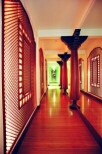 Planet Yoga by Master Kamal is the most complete yoga centre in Hong Kong (now they have 3 branches). It is the most exciting , inspirational, life changing experience from the Himalayan mountains through Hollywood direct to Hong Kong. Planet Yoga occupies 10,000 sq feet of prime real estate in the heart of Central. This world-class facility has been designed to simulate the feeling of a truly unique Indian ashram and offer classes 365 days a year daily from 730am to 1030 pm!! The luxurious changing facility provides private lockers, showers, amenities and a steam room. Members can meditate or relax in the specially designed Relaxation Room, which boasts a spectacular inner city view.
For HKD444/month (I don't need to pay application fee) for 1-year contract and I can enjoy this place every day (if only I have that much spare time!!) And everytime I went there, I met some sort of Hongkong elebrities. Wow! To have the same choices of these 'somebody' makes me this 'nobody' feel so good. =)))
Check it up at
http://www.planetyoga.com.hk
GUCCI gg-9537J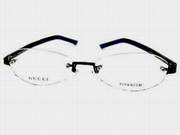 Hongkong is surely a paradise for luxury goods! If you are looking for the pricy eyeswear, but you still want to save some bucks, then you should come to New Fei Optical Supply Ltd. which is located at Flat A&C, 12/F, Lucky Horse Ind. Bldg, 64 Tong Mi Road (exit B1/D from Prince Edward MTR), Tel: 2398 2422 (

http://www.newfei.com.hk

) It is actually the manufacturer for lens. There are over thousands different frames of glasses & sunglasses, and with different color lens that you can always find the best combination for your own choices. Brandnames like Armani, Burburry, CD, Chanel, D&G, Silhouette...you name it, and you can find it! They also have lots cheap frames so your budget range starts from HKD100 up to over thousands bucks!! Moreover, they open 7 days a week and provide you free drinks, what a service! ;)
I got my GUCCI gg-9537J eyeswear (but mine is champagne purple) here at 45% discount from the normal price tag! I just love this optical shop and you shouldn't miss it too!!!
My BVLGARI bb23Ssd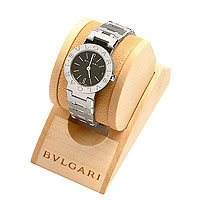 This was my new pick, Bvlgari BB23SSD, stainless steel bracelet and water resistant for 30 M (100 FT). It's classic style and it looked so fantastic on my wrist :) Guess how much I spent?? It's just 1/3 of the original price. (of course I could only afford the 2nd hand, but it's really 98% new!) Go to Royal Watch Co. located at 19A, G/F,Nelson Street, Mongkok (Tel: 2393 8888) and their watches were all in really good conditions! In 2007, I bought another Cartier Vermeil quartz watch, with very good price too:)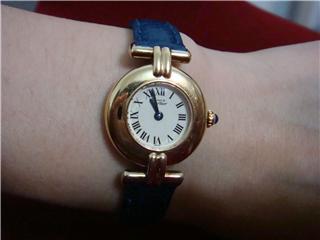 Yesasia.com is a great online bookstore (next to Amazon.com, of course ;P) as their exchange rate is USD1 = HKD7.80, which is relatively cheap compared to most bookstores you can find in Hongkong. Also, I didn't need to pay delivery fee as they sometimes provide free courier service which is good to hear! I once bought cd & books from amazon.com, the UPS fee was even more higher than the book price (coz they delivered from the warehouse in USA to Taiwan). Therefore, living in HK/Taiwan/Asia and you want to buy foreign books, Yesasia.com is my first choice!!

http://global.yesasia.com
You may not have budget to buy books online, or you may not ready to buy things by credit card online, you can still find something to read in Hongkong which is free, informative and I enjoy reading it from Mon - Fri daily from the MTR station. Pick one copy and you will feel relieved. Why? Because nowadays the most popular newspapers in HK are those which always make you grimace by their gimmicky headline.
Even you don't take MTR, you can read this paper online at
http://www.metrohk.com.hk/
. Metro International publicises free newspapers around the world with 12.3 million daily readers of over 30 editions in 16 countries in 14 languages! And it's sure is my best way to kill my time & 'enhance my value' in the MTR communting. ;)

If you don't want to get lost in hongkong, now you can find an online map provided by yellow page. Check it up before you head to any place new, no matter it is a building, or a street, or public area, so you won't have problem to find your way out in the cosmopolitan HK!