EATING & SHOPPING
Pepperonis in Stanley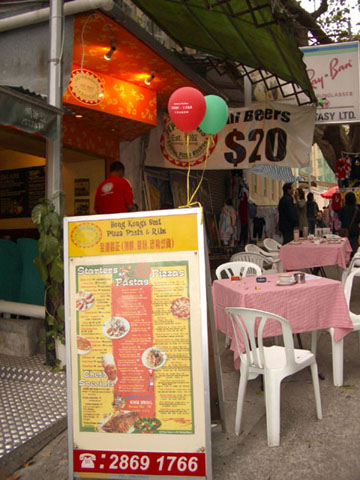 Pepperonis Pizza & Cafe
There are 5 outlets and I've been visited 1 in Stanley Market and 1 in Sai Kung (another 3 is in Central SoHo, Causeway Bay & Wan Chai). I love the Indian Chicken Curry (HKD58) so much (so far the best) and finally I know why...it turns out even this is an 'western/italian' resturant, the chefs there are mostly Indian ;) Dinosaur Ribs (HKD95) are highly recommended (but I think Dan Ryan's is better) but when compared to price, Pepperonis is just one third of Dan's, so...Pepperonis sure wins!
They say they're HK #1 pizza, pasta, ribs resturant. So you should at least try once and I am sure you won't be disappointed much. They even have the delivery deals (call 2869-1766).
Chung Shing Thai Cafe at nite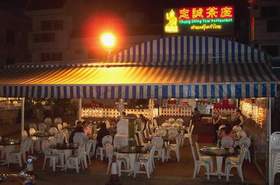 Located in Tai Mei Tuk Village, Tai Po,Chung Shing Thai Cafe is my favorite place for Asian food. Red/ green curry duck, chicken soup w/coconut milk, chilli prawn... all the dishes I've tried are so yummy, and the prices are so reasonable!!
Address: G/F, No. 69, Tai Mei Tuk Village, Tai Po Opening time: 9 am ~ 12:00 midnite, Tel: 2664 5218 Transportation: from Taipo market railway station, take bus 75K or mini green bus 20C to the Tai Mei Tuk Terminals On Sundays, public holidays, there is special bus #275R stops near the restaurant.There are plenty free car park for drivers.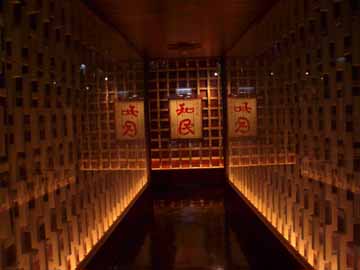 The first oversea Watami Japanese Casual Restaurant was opened in Causeway Bay, Hong Kong in Autumn 2001. The food are nice, and prices are so reasonable. I usually spend HKD100 per head with drink and can enjoy the nice atmosphere. Don't you think it's somehow similar to 'Lost in translation', the pub at Hyatt Hotel? ;) http://www.watami.com.hk/en/watami.asp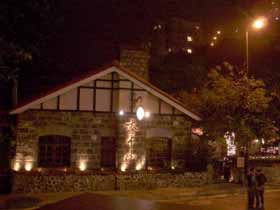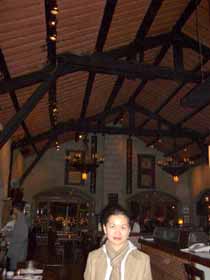 The Peak Lookout
Quote from Frommer's: "Although it's on The Peak, located across the street from the Peak tram terminus, there are only limited views of the South China Sea from the Peak Lookout's terrace. And yet, it has long been a Hong Kong favorite, despite a recent change of name, ownership, and menu. A former tram station, it's a delightful place for a meal, with exposed granite walls, tall timber-trussed ceiling, open fireplace, wooden floor, and a greenhouselike room that extends into the garden. You can also sit outdoors amid the lush growth where you can actually hear birds singing--one of the best outdoor dining opportunities in Hong Kong on a glorious day. Musicians entertain nightly with oldies but goldies. The menu is eclectic." But my favorite escargot was no longer on the menu. :( Thus, I ordered the baked oyster with cheese and bacon instead, still delicious ;)
http://www.thepeaklookout.com.hk/index.htm
Yummy satay beef noodle, serve it hot~
GREAT LOCAL FOOD
If you like SATAY BEEF NOODLE, you should not miss this one. After trying so many different places in HK, I still think the eating outlet near my home is the BEST place for satay beef noodle. Don't question me, i am expert in satay beef noodle, i start eating it when i was only 12, ok? ;) Just HKD14, serve with free tea, what a great bargain you can find else where?
Ladies, wanna go shopping & dining??
Established in 1973, TOPPY is a nice HK brand for ladies' wear including different labels as Episode, Episode Studio, Jessica, Colour 18, etc. If you are looking for good quality with reasonable prices (esp during the 50% on sale period), these are what you 'must go' places.
I prefer shopping in Central & TST. Causeway is fine,but not my first choice. While in Central, you can always find something different in every corner of the streets (don't forget Central is the first developed place in HK!) The Landmark, On the Pedder, IFC, LKF, SoHo, Cat's Street, Holloywood Road, etc, you can find so many kewl things to spend your time and money!!
TST is great, esp. Harbour City which is one of the biggest shopping complex in Hongkong. You can find all brand names on Canton Road, Nathan Road, as well as all low prices with good quality things along Granville Road, Cameron Road and nearby alley. I bought the high quality export ladies' garment for just HKD100, not for 1, but for 3!! (can you believe?? This was 2004 Feb, not a decade before!) Now you can find 'ELEMENTS' just on the Kowloon MTR station, a new brand name hub, ELEMENTS with cinema, ice rink, HMV and world wide gourmet too.
Citygate Outlets in Tung Chung (
http://www.citygateoutlets.com.hk/index.html
) is the outlet mall in Hong Kong which is just 5 minutes ride from HK Int'l Airport. Featuring over 50 international brand names offering year-round 30%-70% discount and completed with a 6-screen cinema, various food & beverage outlets and a 440-room Novotel Citygate Hong Kong, Citygate Outlets is a MUST stop in HK.
If you want to try other dine-out places, head to Knutsford Terrace which is soho in kowloon side, or The Peninsular Hotel is always a good choice! (if only you treat me *hehe*) Marine's Club in Middle Road is my personal preference.
So when talking about shopping and dining out, HK is always my first favourite place, with good prices, good choices and guranteed quality, and great discount from time to time ;)
Citygate Outlets in Tung Chung,5 mins from airport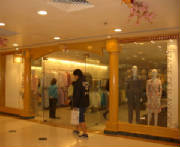 Playlord is one of my favorite HK-established brands. My first suit from it was...1993 (wow, a decade ago, I am still a young lady *LOL*) They used to have Lazzu (now no more, I think), Stage of Playlord is a line for younger folks and Playlord is for the executive. Price is reasonable (a really great bargain when it's 70% off ;P), style is younger than Jessica and more fashionable, and the quality is good.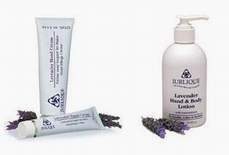 What's good to shop in HK? Besides the clothings & jewel, of course you must buy cosmetics & body care things, such as Jurlique, the trendy souvenir you won't miss when visiting Australia besides the koala bear/wool stuff! I checked online, the price for hand cream (125ml) is A$43, for hand & body lotion (240ml) is A$22. However, you can buy a more cheaper price at HK Cosmetic Centre Ltd. Just less than HK$200 you can buy the hand cream, and HK$109 for the lotion, almost half price of what you can find in local Jurlique shop! More better, the Cosmetic Centre has 8 outlets, so easy to find one located nearby! Call 2638 9888 for any enquiry!
PS - I just like the lavender smell, I hate the rose ones.